JULY 2004 Published Monthly Vol. 31 Issue 3

PATCHOGUE, NY
WWW.SUFFOLKNY-AA.ORG
113-8 Bay Avenue Patchogue, NY 11772

(631) 654-1150 FAX (631) 654-1110

Mail: P.O. Box 659 Patchogue, NY 11772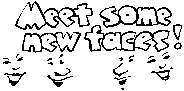 Come one come all! GSR and SIA invite all to celebrate AA's 69th Anniversary. It's the BIG MEETING on Saturday August 7, 2004; the doors open at 9AM, and don't miss the free raffle. The place is St. Elizabeth of Seaton, 800 Portion Rd., Ronkonkoma. Parking is in the rear of the church.
Agenda:
Breakfast
: Coffee/Tea/Donuts~~~~~~~~~~~9 - 9:55 AM

GSR:
1 Speaker~~~~~~~~~~~~~~~~~~ 9:55 - 10:25 AM

SIA:
3 Speakers~~~~~~~~~~~~~~~~~~~~ 10:30 - 11 AM

OLD TIMERS
: 2 Speakers~~~~~~~ 11:05 AM - 12:05 PM

How It Works Now
: 2 Speakers (1st year celebrants)~~~ 12:05 - 1:05 PM

Promises read
: 1 Speaker ~~~~~~~~~~~~ 1:05 - 1:30 PM

FOOD & LIGHT MUSIC
~~~~~~~~~~~~~~~~ 1:35 - 2 PM

DANCING & ENTERTAINMENT
~~~~~~~~~~~~~ 2-3 PM
To this date, our 1951

Big Book

has been signed by 41 A.A.s; all of whom have more than 30 years of sobriety. Of those, three have more than 40 years. If you know of someone with 30 plus years, we'd love to have them sign, too, for the permanent record in our archives. The book will be available always at the SIA meeting at Clearly School on the second Tuesday of the month; every Friday evening at the Kings Park Open Meeting, and every Saturday afternoon at the We're IT Meeting in Islip Terrace. You can also contact the Archives directly at the SIA Office at (631) 654-1150.
Thanks to the following meetings for giving us their histories: Kings Park Just for Today; Selden Early Commuters; Selden Guys and Dolls; and Riverhead Freedom. It's been slow going, and all contributions are appreciated. Our history is so rich but so fragile. As old-timers move on, sadly, a little bit of our past disappears with every one of them. So please help preserve what we have. If you are not sure how, contact the Archives Committee. Quite often we hear from new meetings' members, "But what could we have to say or to add? We are new!" You have a lot to say we say.


- Archives continued on
Action
at
Why Do I Go to A.A.?
What's In It For Me?
After a few months in A. A., I kept asking myself, "Why do I go? What's in it for me?" I didn't really have a problem - I hadn't ended up on Skid Row or in jail or in a clinic. As I near five years of sobriety, I still need A.A., but I no longer ask why.
I think the beginnings of serenity came with the shattering, emotional awareness that I was in a room full of understanding people. My story is my own, but the feelings I had can be shared. Tonight, for instance, someone's reference to rye and water made me remember that I never drank rye, and used to con my into believing I was okay because I stuck to a specific brand, drank only on social occasions or under severe stress, and never went to a bar by myself. Of course, I was drinking at home


Why I Go continued on pg. 4


"The beginnings of serenity came with...the awareness
that I was in a room full of understanding people."
Next