113-8 Bay Avenue Patchogue, NY 11772


(631) 654-1150 FAX (631) 654-1110

Mail: P.O. Box 659 Patchogue, NY 11772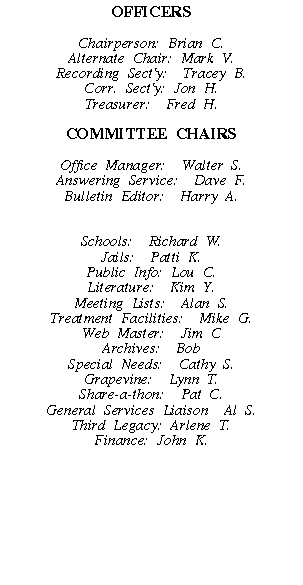 "The Bulletin" is published monthly by the Suffolk Intergroup Association of Alcoholics Anonymous, PO Box 659, Patchogue, NY 11772. "Alcoholics Anonymous" and "AA" are registered trademarks of Alcoholics Anonymous World Services, Inc. Quotes from AAWS literature are used with permission.



People are needed to take shifts at the SIA office. Volunteers are needed both to take regular shifts, between 9:00AM and 3:00 PM, except Sundays, and to fill-in in emergencies. Office work involves answering the phones and light paperwork. Volunteers also help with committee work. Anyone who is interested contact office manager, Walter S., at 654-1150.
SIA Officers and Chairpersons Meeting:


Mar. 2nd-7:30pm

at the SIA Office


SIA Group Representatives Monthly Meeting:




Mar. 9th-8:00pm

at Cleary School, Ronkonkoma
Share A Thon Monthly Meeting:


Mar. 10th-7:00pm

at thE SIA Office


Suffolk General Service Monthly Meeting:




Mar. 19th-8:00pm

at Trinity Lutheran Church, Rocky Point.


SIA Special Needs Committee Meeting:




Mar. 18th-8:00pm

at the SIA Office


SIA/GSO Public Information Committee Meeting:




Mar. 17th-7:30pm

at the SIA Office


SIA Treatment Facilities Monthly Meeting:




Mar. 24th-7:30pm

at The SIA Office
HELP WANTED
QUOTE OF THE MONTH
" A RESENTMENT IS THE ACID THAT CORRODES THE CONTAINER THAT HOLDS IT".


ARCHIVES BOB
LORD, MAKE ME A CHANNEL OF THY PEACE THAT WHERE THERE IS HATRED I MAY BRING LOVE, THAT WHERE THERE IS WRONG I MAY BRING THE SPRIT OF FORGIVENESS, THAT WHERE THERE IS DISCORD I MAY BRING HARMONY THAT WHERE THERE IS ERROR I MAY BRING TRUTH, THAT WHERE THERE IS DOUBT I MAY BRING FAITH THAT WHERE THERE IS DESPAIR I MAY BRING HOPE, THAT WHERE THERE ARE SHADOWS I MAY BRING LIGHT, THAT WHERE THERE IS SADNESS I MAY BRING JOY. LORD GRANT THAT I MAY SEEK RATHER TO COMFORT THEN TO BE COMFORTED, TO UNDERSTAND THEN TO BE UNDERSTOOD, TO LOVE THEN TO BE LOVED. FOR IT IS BY SELF-FORGETTING THAT ONE FINDS, IT IS BY FORGIVING THAT ONE IS FORGIVEN, IT IS BY DYING THAT ONE AWAKENS TO ETERNAL LIFE...
AMEN






Back
Next