JANUARY 2004 PATCHOGUE, NY
Meetings and Events This Month


SIA Officers and Chairpersons Meeting:




Feb. 3rd-7:30pm

at the SIA Office


SIA Group Representatives Monthly Meeting:




Feb. 10th-8:00pm

at Clearly School, Ronkonkoma
Share A Thon Monthly Meeting:


Feb. 10th-7:00pm

at Cleary School, Ronkonkoma




Suffolk General Service Monthly Meeting:




Feb. 20th-8:00pm

at Trinity Lutheran Church, Rocky Point.


SIA Special Needs Committee Meeting:




Feb. 19th-8:00pm

at the SIA Office


SIA/GSO Public Information Committee Meeting:




Feb. 18th-7:30pm

at the SIA Office


SIA Treatment Facilities Monthly Meeting:




Feb. 25th-7:30pm

at The SIA Office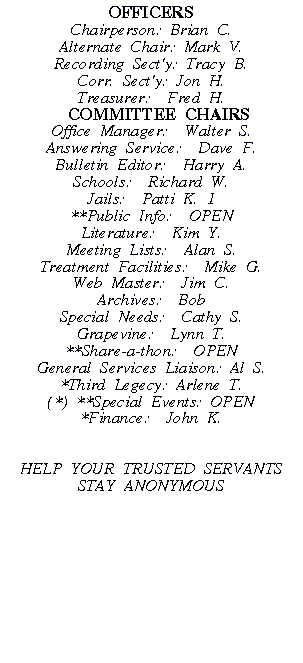 "NEWLY ELECTED COMMITTEE CHAIRS"

L.I.C.Y.P.A.A.
Meeting 8:00pm 2nd Monday of the month at Town Hall Annex
401 Montauk Hwy., Islip

* New Committee's
** Open Commitment's

"The Bulletin" is published monthly by the Suffolk Intergroup Association of Alcoholics Anonymous, PO Box 659, Patchogue, NY 11772. "Alcoholics Anonymous" and "AA" are registered trademarks of Alcoholics Anonymous World Services, Inc. Quotes from AAWS literature are used with permission.

>>>>>>>>> VISIT THE SIA/GSO WEB SITE ...... WWW.SUFFOLKNY-AA.ORG <<<<<<<<<
Next